Main Profile Page
In this section, learn how to make changes to your public-facing charity Profile page featured on CanadaHelps.org.
---
Profile
1. Fill in the Details fields to allow this information to display to donors on your main profile page.
2. Under Content, edit the URL for your charity's profile page, add detailed About text outlining what your charity is all about, and upload an image from your computer to display as your charity logo.
NOTE: The logo uploaded here will also display on your custom donation forms, campaign pages, P2P campaign pages, Ticketed Events pages, and in your thank-you emails to donors.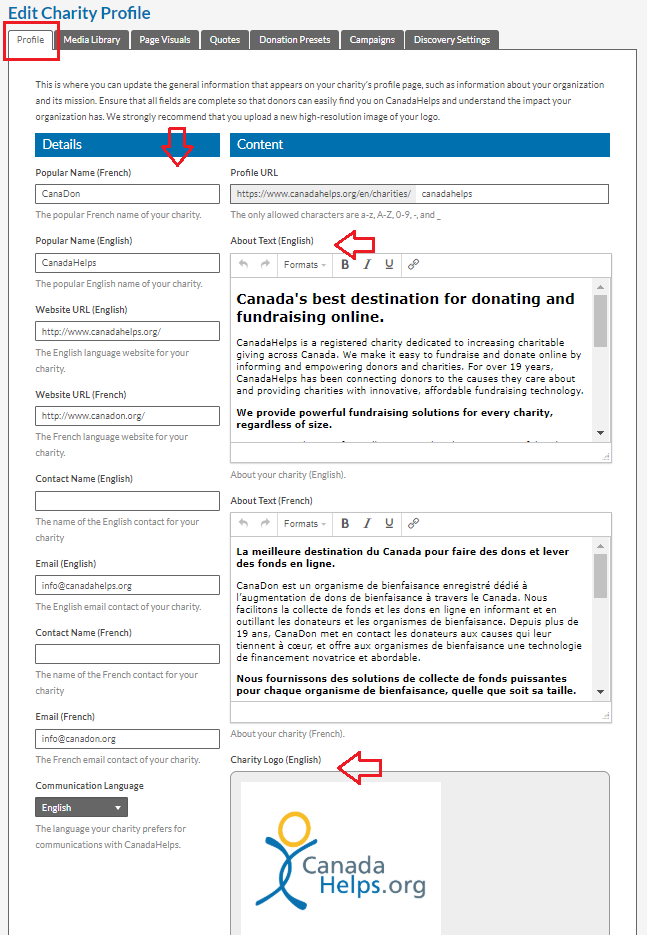 TIP: Need to update your charity's mailing address? Visit Account Settings.
Need to change your charity's legal name? Click here to be redirected to the CRA's website for charities. 
Once you have updated your Charity's legal name with the CRA, please provide us with a copy of the letter from the CRA confirming the change and we would be happy to manually update it on our end! Otherwise, the changes should retroactively update in our system the following month.
---
Media Library
1. Use the Add Image button to upload and store images that you would like to have appear on your profile page.
TIP: Images not uploading? Make sure they're at least 400px x 400px, but no larger than 2000px x 2000px. Supported formats include JPG, PNG and GIF.
2. If you have them, add URL links to videos about your charity.
NOTE: Images and videos must be added here first. Then go to the Page Visuals tab to decide where exactly on your profile page they should appear.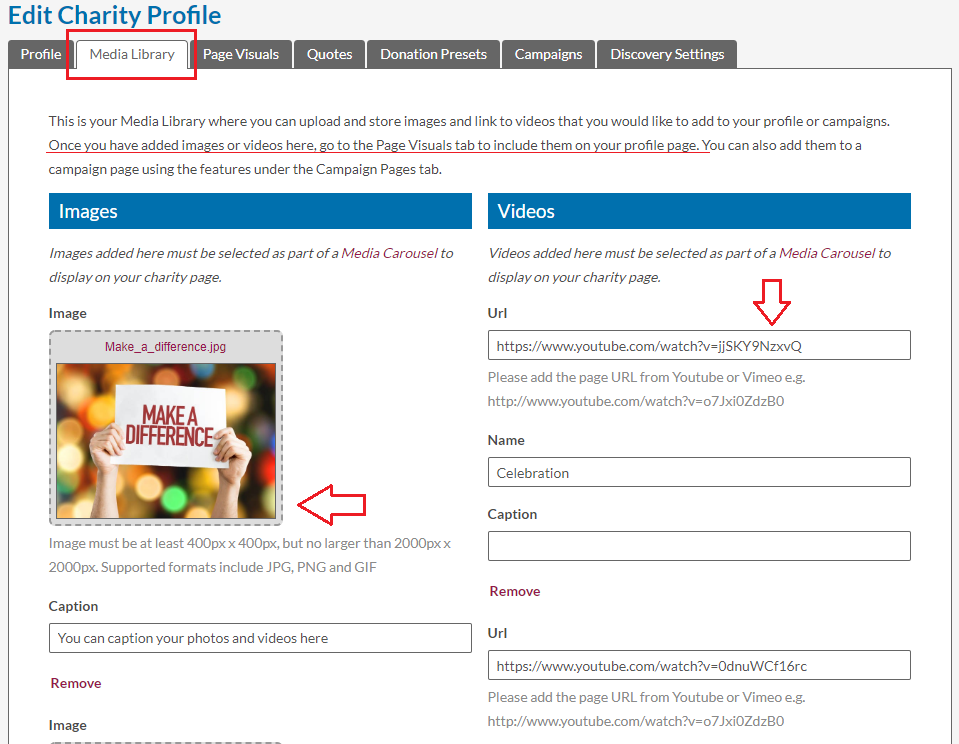 ---
Page Visuals
1. Use the drop down list to select from the images and videos you've previously added to your Media Library.
2. Add one high impact main profile image and select other visuals as part of your media carousel to showcase the work you do. 
TIP: For best results, add at least five items to your media carousel.
3. Assign an order to your different media and a caption for donors to read when expanding the image or video.
TIP: Don't see the image or video you want to add? Make sure you've first uploaded it into your Media Library. Still Having trouble? Contact us!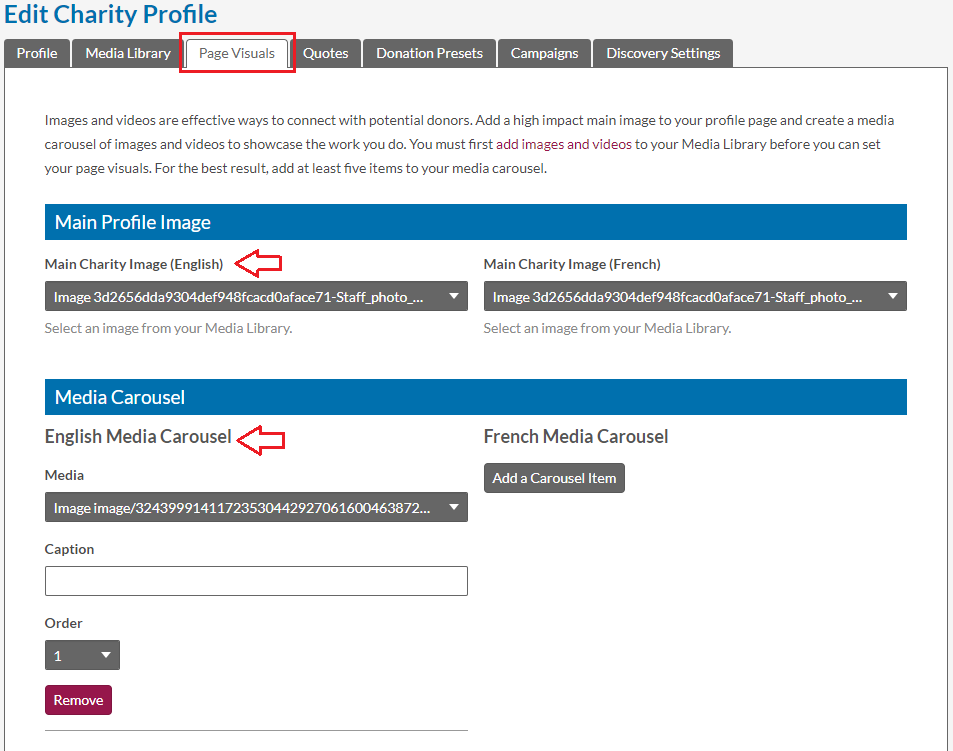 ---
Quotes
Add testimonials showcasing what people are saying about your charity, such as press and media reviews, client endorsements, or donor, staff, and volunteer testimonials.
TIP: A quick copy and paste of any testimonials you already have on your website will help optimize your profile!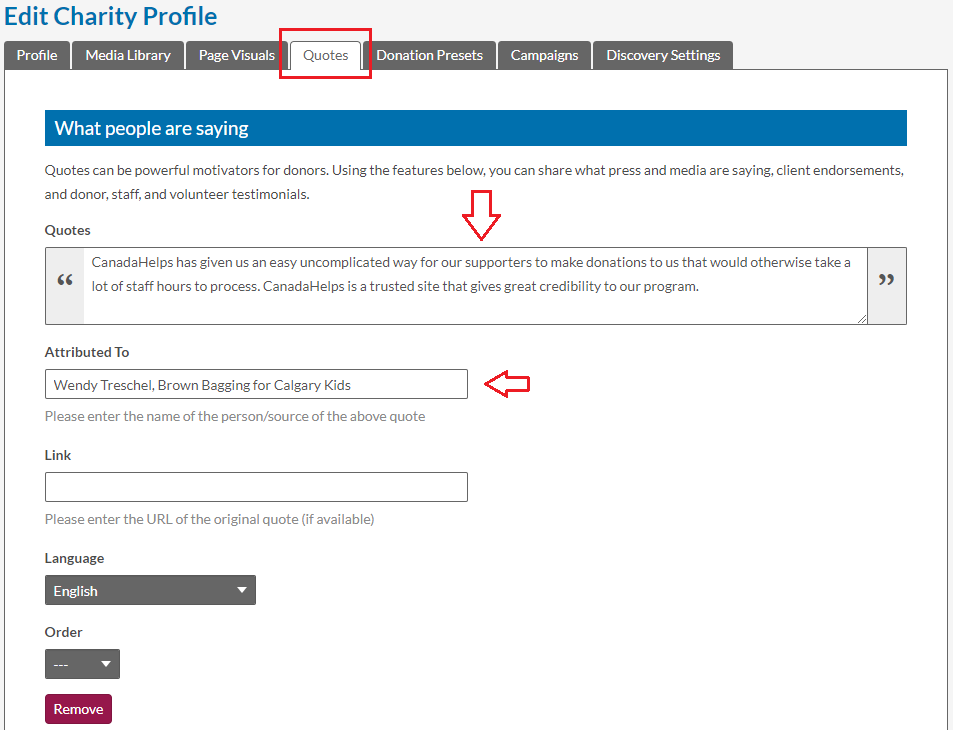 ---
Donation Presets
Encourage larger gifts or help donors who aren't sure how much to give by adding donation presets.
NOTE: Donors will always be able to enter another donation amount if they wish.
1. Add up to 4 suggested donation amounts for one-time and monthly gifts.
2. Add a corresponding impact statement to help communicate the tangible impact a certain donation amount can have.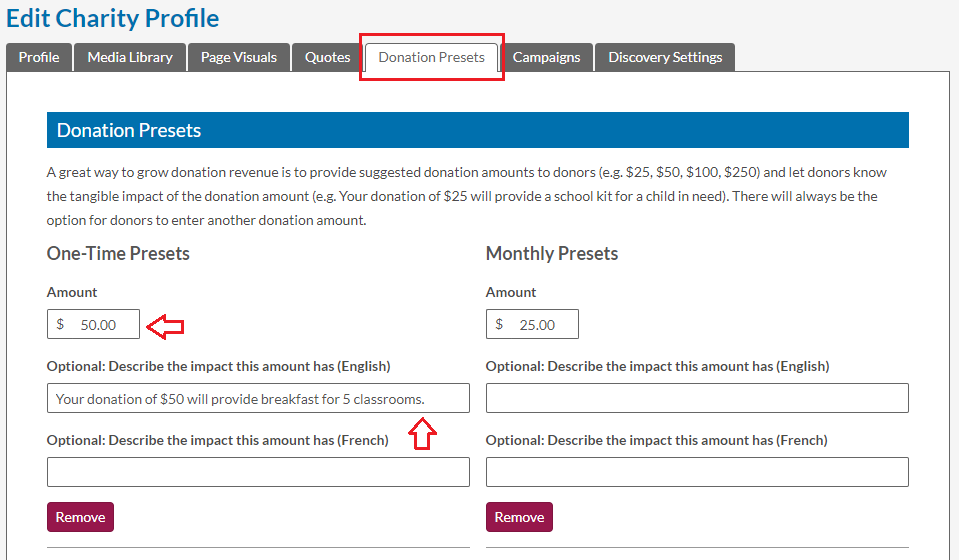 ---
NEXT STEP: Find out more about Campaigns and Discovery Settings!