[Donor Management System] Managing your Data Export Mappings
You can export your Contacts and Contributions at any time in the DMS.
In addition to that, you can also select which DMS fields you would like to export. This can be useful if you need to export some of your data and import it to MailChimp, Constant Contact or another software.
This article will cover how you can manage the export data mappings that you have saved for any future data export.
---
Considerations
This page only allows you to modify your Saved Mappings Name and Description.
If you need to modify the export fields for any specific Mapping, you will need to follow the steps of exporting Contacts or Contributions. Make sure to select a Used Saved Field Mapping and then choose your new desired fields.
---
Managing your Data Export Mappings
1. First, select and save your desired fields when exporting Contacts or Contributions
2. Go to the Administer Tab
3. Under System Settings, select Import/Export Mappings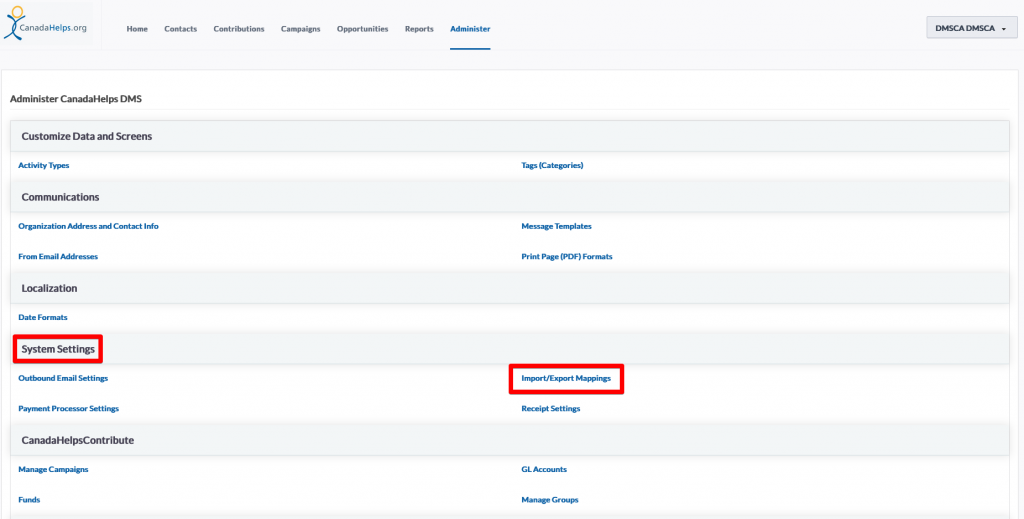 4. On the next page, you will see all of your saved fields for data export
5. Select Edit to modify the Mapping's Name or Description.