[Donor Management System] How CanadaHelps Donations Sync with your DMS
This article covers:
How your CanadaHelps.org donations sync with your DMS.
What information from CanadaHelps.org syncs to your DMS.
What information from CanadaHelps.org current doesn't sync to your DMS.
---
Where is my pre-existing data from CanadaHelps?
Your previous Contact, Contribution and Campaign data from CanadaHelps will have been synced with the DMS during the Data Migration process.
---
When does new CanadaHelps data sync?
New Contributions and Contacts sourced from CanadaHelps will sync automatically on a daily basis at around 11 am EST. These require no manual input from you.
---
Which CanadaHelps fundraising tools are integrated with the DMS?
---
What information from CanadaHelps is synced when a donation is made?
Details that will be added as Contributions

Date: The date and time the Contribution was made
Name: The donor's name will be listed and the Contribution will be added to the corresponding Contact. If they are a first time donor, a new Contact will be created
Amount: The amount of money donated. You can click on the number to view the Contribution Details.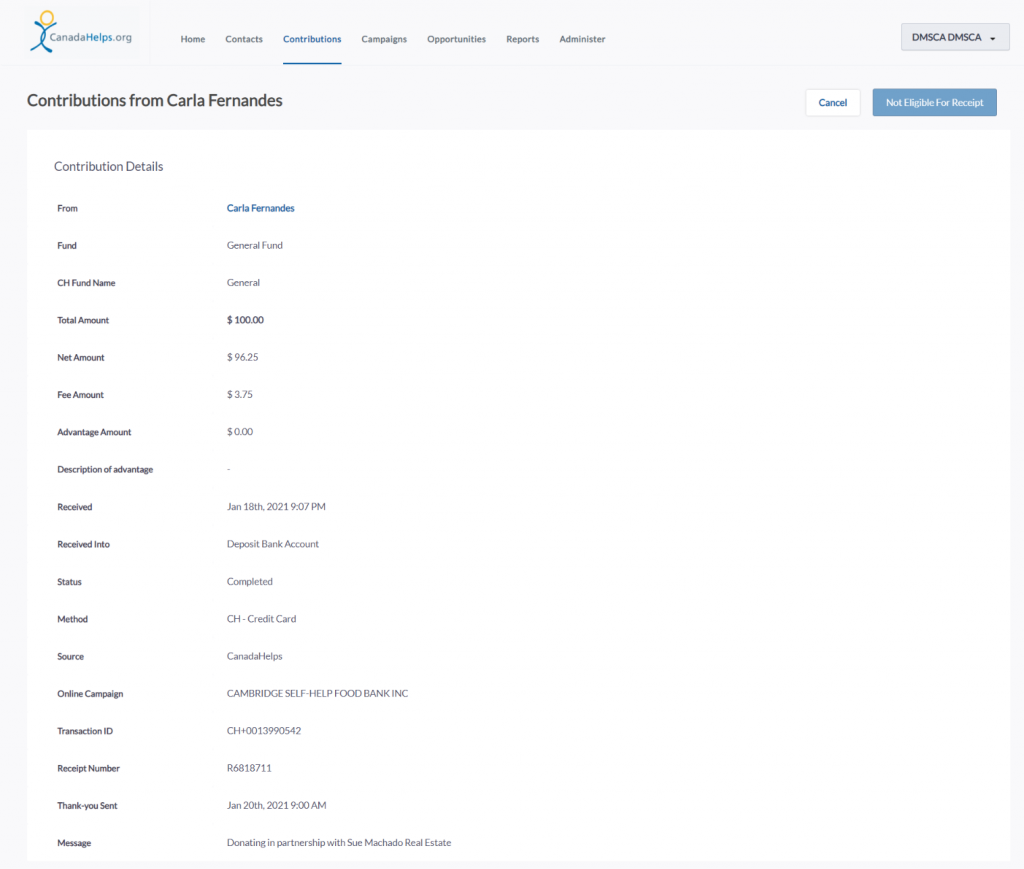 Fund: Designates where the donation will be collected within the DMS. Donations sourced from CanadaHelps will most likely be associated with a CH Fund, if the donor selected one when making a donation. CH Funds in the DMS are essentially Funds used in your CanadaHelps.org Charity Profile and across your Fundraising tools. You can view the specific CH Fund by looking at the Contribution Details.
Campaign: Correlates with the name of the Donation Form, Event or Peer to Peer campaign on CanadaHelps.org. If the donation comes from your CanadaHelps Profile, it will say "Charity Profile".
Source: Donations sourced from CanadaHelps will be labelled "CanadaHelps".
Method: Indicates how the donor paid through CanadaHelps: CH-Credit Card, CH-PayPal, CH-Cheque (in the case of Partner Giving), CH-GiftCard.
Status: Indicates if the donation was successfully processed.
Receipt No.: The Receipt Number for the Tax Receipt issued by CanadaHelps.
Thanked: Indicates whether the donor has been thanked for their contribution. You can thank donors from CanadaHelps or the DMS.
---
Details that will be added as Campaigns

Note: You can edit each Campaign's information from the Campaigns Tab in the DMS but this will not be synced back to CanadaHelps.org. To change your Campaign details, you should change them on CanadaHelps.org and that will be synced to the DMS.
Name: Correlates with the name of the Donation Form, Event or Peer to Peer campaign on CanadaHelps.org.
Type: Specifies the tool the donations are received (Donation Form, Charity Profile, Event, P2P, CH Campaign).
URL: Links to the specific Donation Form, Event, Peer to Peer or CanadaHelps Campaign.

Note:

URL for Charity Profile is not automatically included, but can be added by editing the Campaign.
Campaign Group: This field is not automatically populated from CanadaHelps but can be used to further organize your Campaigns. This can be done by editing the Campaign.
Start and End Date: The dates that a Campaign begins and is completed. This is populated automatically from Events and Peer to Peer tools but must be manually added to the others.
Goal: The target amount you want the Campaign to raise. This can be set within the Custom Donation Forms, Events, Peer to Peer and CanadaHelps Campaigns, and edited in the DMS.
Selected Period: The amount raised within selected dates and can only be found in the DMS.
Important: If you delete a campaign from your CH.org account, it will not be deleted in your DMS. You must modify your DMS campaign and mark it as Inactive.
---
Details that will be added as Contacts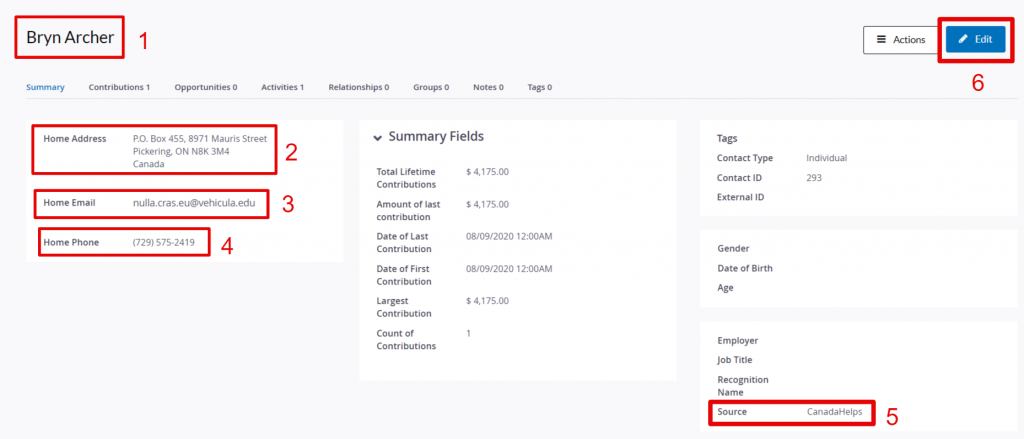 Note: A Contact Profile is automatically created for a new donor and will be populated with the information an Individual or Organization provides when they give through CanadaHelps.org
Name: Individual or Organization's name
Home Address: The address the donor provides
Email: The email the Contact provides to receive their tax receipt from CanadaHelps
Source: Indicates that the contact was created from CanadaHelps
Edit: You can add additional details about the Contact by Modifying the Contact
---
What information from CanadaHelps is NOT yet being collected?
The following are still not being synced from CanadaHelps.org to the DMS, but they will in the future. Please contact your Onboarding Expert for any questions.
Donors
Any communication preference
Which donors have been thanked through the CH.org Thank You tool
CDF
Custom Questions
Custom Answers
P2P
Team Name
Participant Name
Events
General
Purchase breakdown
Price of ind. ticket
Number of tickets
Attendee Information
Name of attendee(s)
Email of attendee(s)
Custom Question(s)
Custom Answer(s)
Ticket Number (ID)
Campaigns
Fundraising Campaigns from CanadaHelps.org are the only ones not being synced for now.
CDF, P2P, Events, Charity Profile, CanadaHelps Partners

are being synced

in the DMS are the umbrella term "Campaigns".