[Donor Management System] Filtering Reports
Once you have opened a Report, it can be filtered by a variety of fields to narrow its focus.
After you have all of your desired Filters in place, you can also export the data in these Reports.
---
Filtering Reports
1. Go to the Reports Tab
2. On the next page, you will see a list of our Standard Reports, organized by the following sections:
3. Select the Report Section to view the expanded list of Report options

4. Select the name of the Report you want to view to access its Report Details page

5. Select the Filters tab on the top left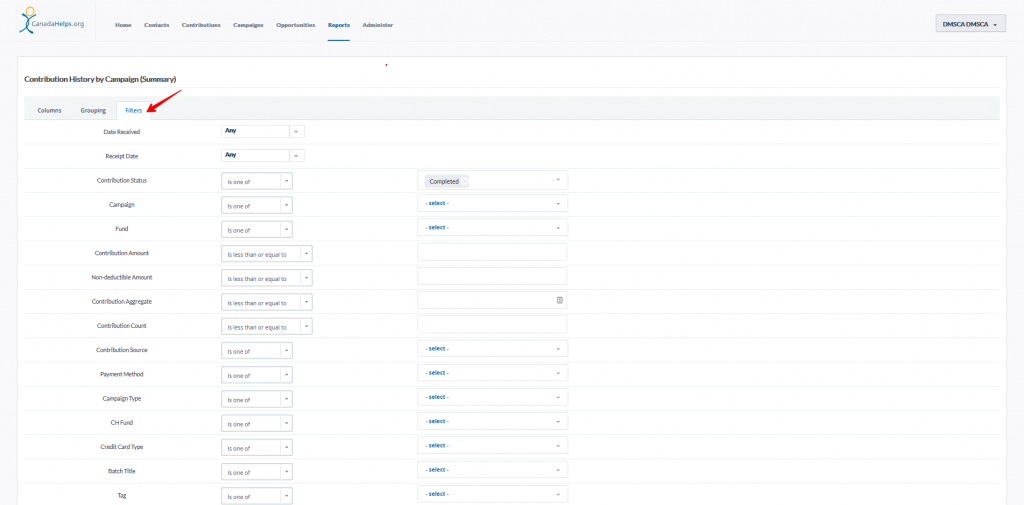 Note: the expanded list of Filters will vary between the type of Report you are running (e.g. Summary Reports will have fewer available filters than Detailed Reports)
Some key Filters you may include in your Reports:
Date Received: the date range in which Contributions were received.
Contribution Amount: the individual amount of the Contributions received.
Source: if the Contribution originated from CanadaHelps or through other sources like manual data entry or historic imports.
Campaign: if a Contribution was solicited by one or more Campaigns.
Fund: if a Contribution is allocated to one or more Funds.
Tag: if the Contact has been tagged with one or more Tags.
Group: if Contacts are part of one or more Groups and/or Smart Groups.
Contribution Status: this filter will default to Completed to ensure you have a view of only Contributions that have been successfully processed. If this filter is removed, it may include Contributions that have been refunded or cancelled.
Recurring: to filter by Recurring Contributions, select Is equal to from the drop-down list and enter "1" on the text field. To exclude Recurring Contributions, select Is equal to from the drop-down list and enter "1" on the text field.
6. To apply filters to a Report, use the drop-down menus to the right of the Filter Title and determine how the Filter should be applied (e.g. "Is one of" or "Is not one of")

7. When all Filters have been selected, select Refresh Results or View Results (if the Report has already been run) to apply the filters and generate the Filtered Report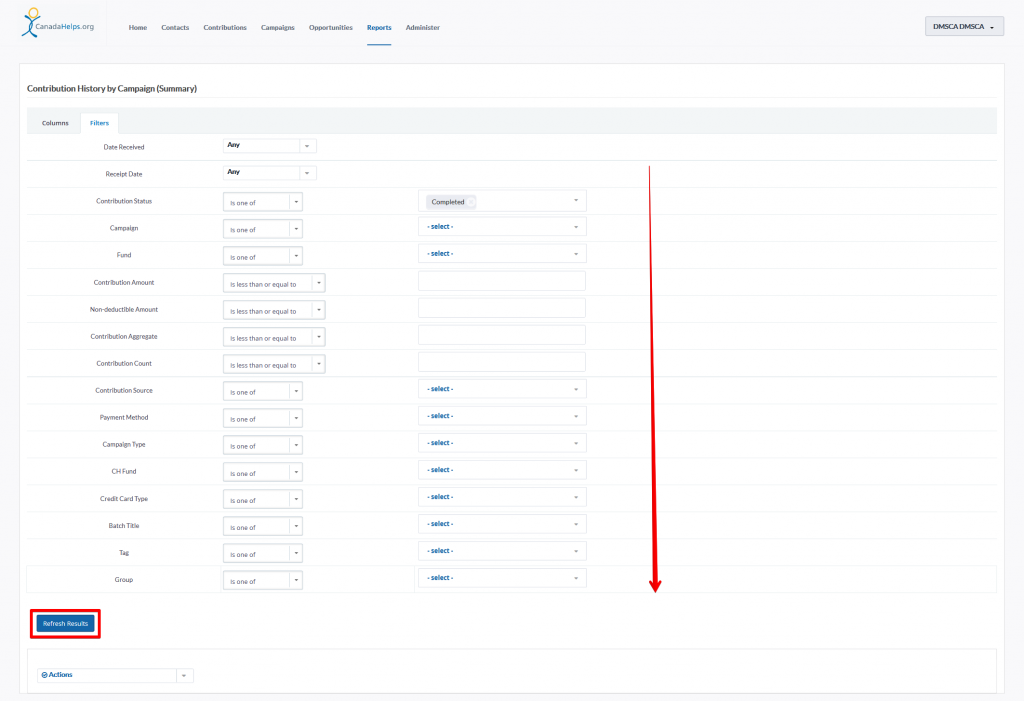 8. Once you have generated the filtered Report, a summary of the Report and the Filters you have applied will then be presented on top of the Report results

9. The results of the Report will be shown below the Summary. The data populating each column will be identified by a header

10. A summary of the Report totals will be located in a table at the bottom of the Report

Note: If the data included in your Report shows more than 50 rows, you can navigate through the multiple pages by selecting the arrows at the bottom right of the screen.