[Donor Management System] Data Migration Best Practices
This article serves as a guide for organizing your historic data before submitting it to your Onboarding Team for migration into your DMS.
This will allow us to speed up the process when migrating your data, reducing potential data inconsistencies. And ultimately, it will allow you to start using the DMS sooner.
—> Learn more about importing your historic Contacts, Contributions, Funds & GL Accounts.
---
Contacts
External IDs
If possible, please provide External IDs for Contacts. This will help identify any duplicate Contacts being uploaded to the DMS and can help link any associated Contributions to the respective donors.
If no external IDs are provided, they will be created by our Data Team prior to data migration for record-keeping and tracking purposes.
Contact Types
As the DMS categorizes Contacts/donors as Households, Individuals, and Organizations, it is suggested by our Data Team to have this information included in the data files to ensure data accuracy.
For Contacts, it will speed up the process of data migration and also eliminate chances of Contacts being imported as the wrong Contact Type.
First and Last Names
As the DMS requires a first and last name for every Contact, it is recommended to include this information during the data migration process. If one (or the other) is missing, the field will be uploaded as Anon (e.g. Anon Smith or John Anon).
Any Anonymous contacts will be combined into one contact (e.g. Anon Anon or Anonymous Anonymous).

**In the example above, any contacts without a provided External ID were assigned IDs by our migration team under "HC-#####".
Preferred Languages
The default language for all Contacts in the DMS will be set as English. If there are Contacts that have other preferred languages, this can be changed during data migration, if provided.
Otherwise, once your data has been migrated, you can also change this preference in the individual Contact's Profile.
Privacy Settings
Whenever possible, please provide any Notes or information on privacy settings (e.g., Do not email, Do not phone, Do not mail). During the data migration process, Contacts with these requests will be flagged for future solicitation purposes.
Contacts with no Privacy requests will be inputted as such and can be changed after the fact in the individual Contact's Profile.

**The default for Privacy Settings is Do Not Email: No, Do Not Mail: No, Do Not Phone: No if no notes are provided.
---
Contributions
External IDs
If possible, please provide External IDs for Contributions. This will help identify any duplicate Contributions being uploaded to the DMS, as well as link any Contribution(s) to its respective donor(s).
If no external IDs are provided, they will be created by our Data Team prior to data migration for record-keeping and tracking purposes.
Donor Types
For Contributions, there may be Contributions that are associated with both an Individual and an Organization (e.g. an Individual with their employer information provided or an Organization with a main contact/employee listed). As our Data Team does not have enough information to determine whether the Contribution came from the Individual or the Organization, it is advised to include this information to ensure that contributions are linked to the correct contacts.
Please provide a separate column for Donor Type.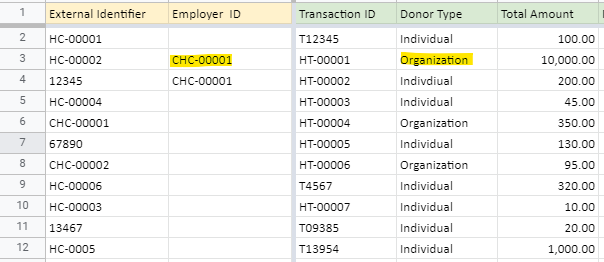 **In instances where there is a contact with employer information (see row 3) and the donor type is identified as an organization rather than an individual, the corresponding transaction will be linked accordingly.
Dates and/or Time Frames
The Date Received is a mandatory field in the DMS and is required to import any Contribution.
If there is no date associated with a contribution, we recommend any of the following:
Provide dates and/or timelines for events and campaigns so that we can set approximate Received Dates for contributions associated with the event or campaign.
Add a temporary date for all Contributions without a date (e

.g. set all non-dated contributions in 2019 as 12/01/2019), and keep a record of these transactions to be adjusted in the future.

Remove the Contributions with no dates and import them at a later date when all the information is available.

**As illustrated in the example above, contributions with limited date information (2019 or September 2019) have been provided a temporary date (12/1/2019 and 9/1/2019). The contributions without any information will require additional information and will not be included in the migration.
It is recommended to provide consistent date formats to ensure that dates are inputted correctly into the DMS (e.g. 01/02/2020 can be interpreted as January 2nd, 2020 and February 1st, 2020).
Campaigns and Funds
Campaigns and Funds fields are mandatory when importing contributions to the DMS.
By and large, any General Campaign Contributions will be housed under the General Fund (pre-set in your DMS), and any In-Kind donations will be housed under the In-Kind Fund (pre-set in the DMS).
We recommend providing us with a list of associated Campaigns and Funds. Otherwise, for migration purposes, you can designate any unlisted Contributions under generic Campaigns' Funds such as "General Campaign" or "Annual Giving". These can be re-assigned to a Fund at a later time.
Payment Methods
Ideally, Contributions should be accompanied by a Payment Method. Any Contributions submitted without a payment method will be imported as Other.
Note: In-kind donations will default to In-Kind as the payment method.
In this way, any missing payment methods will be easily identifiable, and you will later be able to update the payment method for each individual Contribution.
Receipting
Unless specified, all historic Contributions will be imported into the DMS as "Receipted" to avoid duplicate receipting. If there is a transaction receipt number associated with a contribution, it will also be included during the data migration process for your reference.
Any contributions marked as a CanadaHelps Contribution will not be imported into the DMS, as it will already exist. Following the data migration, if any Contribution has been inaccurately marked as a CanadaHelps contribution, please let us know so we can ensure no contributions have been missed.
---
Other
Given the amount of data being processed at once during migration, there may be a few data points that might be better housed elsewhere in your DMS, such as Relationships or Job Titles.
Once your data migration is complete, we invite you to review any Contact or Contribution notes that could be useful to your organization and re-arrange them as you please!