[Donor Management System] Data Migration Best Practices
This article serves as a guide for organizing your historic data before submitting it to your Onboarding Team for migration into your DMS.
This will allow us to speed up the process when migrating your data, reducing potential data inconsistencies. And ultimately, it will allow you to start using the DMS sooner.
—> Learn more about importing your historic Contacts, Contributions, Funds & GL Accounts.
---
What to Include with the Data Files
To ensure that all your data is properly migrated, we highly recommend sending your data files to our team as a CSV file with all information organized in either one complete sheet (Contacts and Contributions) or in its respective sheets (Contacts sheet, Contributions sheet). 
If your data files are currently in Excel, you can simply "Save as" a CSV file when you are exporting your spreadsheets. 
How to Effectively Organize the Data
Treat each row as a single contact entry if possible. Include all their information in the same row separated by columns.
Treat each column as a separate field in the DMS.

** Highlighted rows illustrate that contact under External ID "HC-00004" resides on 101 Autumn Cres., and is an Individual. Same applies to contact under "67890", who is an individual and resides on 135 Green Drive.
Important information to include about Contacts
     1. External IDs**
External ID is a

unique

record identifier that is assigned to every one of your Contacts, whether it is an Individual, Organization, Household, or Related Contact. If you are familiar with or currently using another DMS system, your external IDs may already be assigned and generated for each unique contact.

If IDs have been assigned by your previous DMS system, please provide External IDs for all Contacts. This will help identify any duplicate Contacts being uploaded to the DMS and can help link any associated Contributions to the respective donors.

If you have been recording your data manually (for example using Excel, Word and etc.) you may not have existing  external IDs. If no external IDs are provided, they will be created by our Data Team prior to data migration for record-keeping and tracking purposes.
     2. First Name
     3. Last Name
Important information to include about Contributions
     1. Transaction IDs**
Similar to Contacts'

External ID

, the Transaction ID is a unique record identifier that is assigned to each transaction. 

If IDs have been assigned by your previous DMS system, please provide them. 

If you have been recording your data manually and have not assigned IDs, the Data Migration Team will create Transaction IDs for each record. Please refer to the illustration below.
     2. Total Contribution Amounts

** Total Contribution Amount column refers to the total amount for one transaction rather than the all-time amount gifted by a specific donor. ("HC" and "CHC" External IDs were assigned by the Data Migration Team)
     3. Dates Received (Mandatory)
The Date Received is a mandatory field in the DMS and is required to import any Contribution. 

If no date is provided, it may slow down the migration process and will require further clarification from your organization to be provided for our Data Team.
If there is no date associated with a Contribution, we recommend any of the following:
Provide dates and/or timelines for events and campaigns so that we can set approximate Received Dates for Contributions associated with the event or campaign.

Add a temporary date for all Contributions without a date (e.g. set all non-dated contributions in 2019 as of 12/01/2019), and keep a record of these transactions to be adjusted in the future.

Remove the Contributions with no dates and import them at a later date when all the information is available.

**As illustrated in the example above, Contributions with limited date information (2019 or September 2019) have been provided a temporary date (12/1/2019 and 9/1/2019). The Contributions without any information will require additional information and will not be included in the migration.
It is recommended to provide consistent date formats to ensure that dates are inputted correctly into the DMS (e.g. 01/02/2020 can be interpreted as January 2nd, 2020 and February 1st, 2020).
---
Recommendations
Contacts
     1. Contact Types
Contacts are separated into three different types: Individuals, Households, and Organizations.
We recommend creating a separate column that will identify Contact Type. 
It can be difficult for the Data Team to differentiate between Individual and Organization Contacts. Sometimes an organization can have a name that resembles an individual. To avoid importing contacts with the wrong type – it is highly recommended to include the Contact Type in a separate column.
     2. Contact Information (Addresses, Emails and Phone Numbers)
We recommend including any identifying information with your contact information as it allows the migration team to better identify any duplicate contacts during the process. If possible, please create separate columns for each section:
Street Address

Supplementary Address 

City

Province

Postal Code

Country
For tax receipt purposes, it is required that a contact has their address information to be able to issue a tax receipt.

** An example above illustrates the best practices of inputting your contacts' addresses, emails and other related information. The email address, street address, city, province and postal code have their dedicated separate rows. 
Mandatory fields:
     1. Individuals
Basic Info that can be imported along with your contact contains: 
First Name (mandatory)

Middle Name

Last Name (mandatory)

Formal Title

Preferred Language
If Preferred Language is not identified, the DMS recognizes the preferred language as English by default. 
If any of the mandatory fields are lacking the information on your records. They will be imported as "Anonymous". (Please see the example below).

***If any other additional information is available for the donor whose first and/or last name are missing we recommend importing as much useful information as possible, so the record could be updated in the future. 
     2. Households: 
Basic Info that can be imported along with your contact 
Relationships, Actions, etc.

Household Name (mandatory)

Preferred Language 
     3. Organizations
Basic Details:
Organization Name (mandatory)

Preferred Language
For related contacts such as employees or main contacts at the organization, they will be imported as a separate individual contact and linked to the organization through a relationship.
Additional information that can be migrated to your DMS:
Street Address

Supplemental Address

City

Province

Country

Postal Code
Email – Primary

Phone – Primary

Phone Extension – Primary

Website

Notes (any useful notes that belong to contact).

Tags (it is recommended to include all tags in separate columns when sending us your data)
Note: you can add additional addresses, phone numbers, and emails.
     4. Privacy Information
Whenever possible, please provide any Notes or information on privacy settings  (e.g., Do not email, Do not phone, Do not mail). During the data migration process, Contacts with these requests will be flagged for future solicitation purposes.
Contacts with no Privacy requests will be input without privacy preferences, these details  can be changed after the fact in the individual Contact's Profile.

**The default for Privacy Settings is Do Not Email: No, Do Not Mail: No, Do Not Phone: No if no notes are provided.
Sometimes your privacy preferences may be recorded manually in your Contact Notes. Depending on the contacts count and the amount of information recorded in this section, it may slow down the process of Data Migration as the Data Migration Team would be reviewing your notes one by one. To ensure that the data migration process moves as quickly as possible, we recommend creating a Communication Preference column for each contact and indicating any Communication Preferences that you have noted about your Contacts in that column.
     5. Relationship Information
Each organization or individual that has a relationship with the main contact from your sheet (for example "Employer of", "Employee of", "Spouse of", "Main Contact at") will also be assigned with an External ID.  In cases where there are multiple relationships within one contact, we recommend adding separate columns for each type of relationship and identifying their kind in the heading of your column.

If no external IDs are assigned and the Data Migration Team will be assigning it instead, please include First and Last names of the related contact under the column that identifies the relationship type. For an example please refer to the picture above. 

**Above illustration shows how a relationship is built for multiple people and one Employer if IDs are assigned (HC-00001, HC-00056, HC-00034, HC-00257 belong to CHC-00241; the main contact for the organization under CHC-00241 is HC-01589). Each contact (organization or contact) has been assigned with an External ID.
---
Contributions
     1. Donor Types
For Contributions, there may be Contributions that are associated with both an Individual and an Organization (e.g. an Individual with their employer information provided or an Organization with a main contact/employee listed). Often, there is not enough information to determine whether the Contribution came from the Individual or the Organization, it is advised to include this information to ensure that contributions are linked to the correct contacts. 
Please provide a separate column for Donor Type.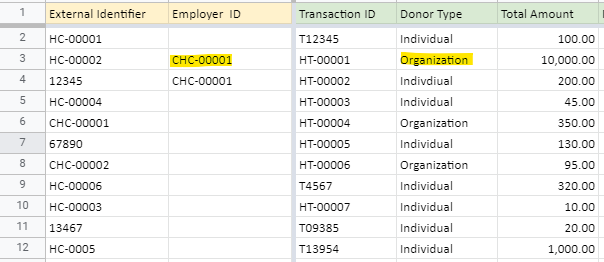 **In instances where there is a contact with employer information (see row 3) and the donor type is identified as an organization rather than an individual, the corresponding transaction will be linked accordingly.
     2. Campaigns and Funds
Campaigns and Funds fields are mandatory when importing contributions to the DMS.
Campaigns in the DMS are organized activities and events that your organization creates to fundraise. Campaigns are your appeals. Funds in the DMS are where the money from your Campaigns is stored. 

** Please see the example above
By and large, any General Campaign Contributions will be housed under the General Fund (pre-set in your DMS), and any In-Kind donations will be housed under the In-Kind Fund (pre-set in the DMS).
We recommend providing us with a list of associated Campaigns and Funds. Otherwise, for migration purposes, you can designate any unlisted Contributions under generic Campaigns' Funds such as "General Campaign" or "Annual Giving". These can be re-assigned to a Fund at a later time. 
     3. Payment Methods (For example – Cash, Cheque, EFT, Credit Card)
     4. Receipt Information
Including any receipt information such as receipt date or receipt, numbers are helpful for tracking purposes in your DMS. To avoid double receipting your donors, every transaction imported from your historic data will be marked as receipted unless specified otherwise.  
---
What Will Be Excluded in the Migration
      1. CanadaHelps Contributions
Any contributions marked as CanadaHelps will not be included in the migration process as any CanadaHelps contributions will already be synchronized with your DMS. We recommend reviewing any CanadaHelps contributions in your data files prior to submitting them to ensure that they are marked correctly and will not be missed. 
     2. Negative Contribution Amounts (Less than $0)
We recommend going through your records to ensure there are no negative contributions before sharing your data.
If there are contributions less than $0 in your data files, they will not be imported into the migration process. Our team will likely reach out to further clarify why these amounts are negative and what the next steps should be. 
     3. Information directly related to the previous Donor Management System
Other DMS' may include specific information in their exported files that are not required for the data migration process. In these cases, our migration team will leave those out of the migration. Some examples include: Last Modified Date, Last Updated By, and Added By. 
     4. Contribution Statistics
It is common that other DMS' data will indicate fields that are relevant to contributions' statistics such as a contact's last contribution amount and date, second last contribution amount and date, and/or all-time total contribution amounts. As long as all contributions are included in your data files, this information is not necessary to import as a separate field – our DMS will automatically calculate this information and can be viewed under the Summary or Contributions tab on the Contact page.
---
Most Common Setbacks
     1. Missing Total Contribution Amounts or Contributions less than $0
To ensure that your data is the most accurate in the DMS and for reporting purposes, we recommend checking that all of your contributions have positive amounts recorded. Missing contribution amounts or negative (less than $0) amounts will need to be verified before going into the DMS.

If these are canceled, refunded, or voided contributions, they can be marked as Cancelled in the DMS to ensure they can be tracked by your team. In this case, we would need to verify whether there are corresponding transactions to these contributions (e.g. another transaction with its corresponding positive entry that may need to be marked Cancelled instead or removed altogether). This will avoid double entries of contributions that have been canceled. 
     2. Missing Received Dates
Contributions cannot be imported without an amount or received date, ensuring this information is available (for dates, Month/Date/Year are all required so providing the most comprehensive data is recommended). 
     3. Lump-Sum Contribution Amounts vs. Individual Contribution Amounts
The DMS will calculate totals on the summary page for each contact, so if the data you have is already sorted by contribution with amounts and dates, keep those as they are as YTD to Total Amounts are not necessary fields.
     4. Unidentified Relationships Between Funds and GL Accounts
When a new fund is added to the DMS, a corresponding GL account will be created (Gala Fund > Gala Fund GL Account). The fund's GL Account can be mapped to another existing GL account if applicable (Gala Fund > General Fund GL Account), although every Fund can only have one GL Account while multiple funds can go into the same GL Account.
If your data indicates multiple GL accounts being linked to a single fund, our migration team may need further clarification on how to complete the GL Account mapping process.
---
Review of the Data Migration Submission Form 
After filling out your personal information (first name, last name, and email address), the form will ask you to confirm that you have reviewed the information in this article and organized your data using our Data Migration Template.
Once you have reviewed all the information on the form, you can submit your data files as the final step. Feel free to share any additional notes or provide context relevant to your data files at this stage as well.

---
Data in the DMS
After your data has been migrated into the DMS, you will be able to search the contact by any fields available through the Contacts page. Select the contact's name you wish to view, and it will bring you to their information page. Related information can also be found under the contact's page. For further information please refer to the Advanced Search for Contacts article.
Any contributions marked as a CanadaHelps Contribution will not be imported into the DMS, as it will already exist. Following the data migration, if any Contribution has been inaccurately marked as a CanadaHelps contribution, please let us know so we can ensure no contributions have been missed. 
Summary
The first page is the contact's Summary page which includes some information about the individual, household, or organization. At the top, there are several tabs to navigate related Contributions, Opportunities, Activities, Relationships, Groups, Notes, and Tags. 
On the right hand side of the Summary tab, the tags associated with the contact are easily visible. To edit this information, along with any of the information on the Summary's page, select 'Edit' at the top right of the specific contact's page. The sections are listed below.
Contact Details
Name (First Name, Last Name, Household Name, Organization Name)

Employer and work information (if applicable)

Recognition Name

Email and Phone Number

Address
Primary Address Information

Billing Address Information (if applicable)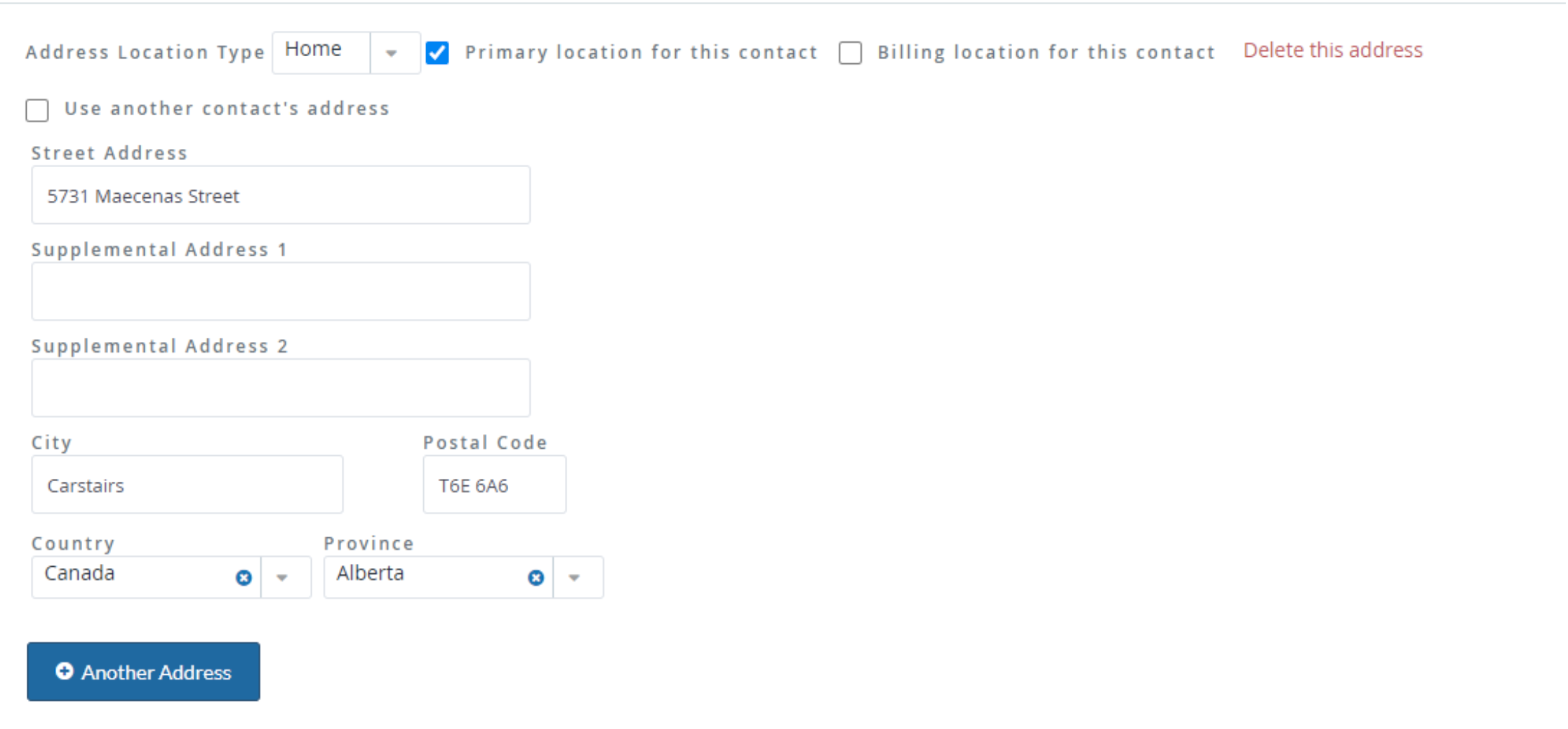 Communication Preferences
Communication Greetings

Privacy Settings

Preferred Communication Methods

Preferred Language (default is English (Canada))

Bulk Email Opt Out Settings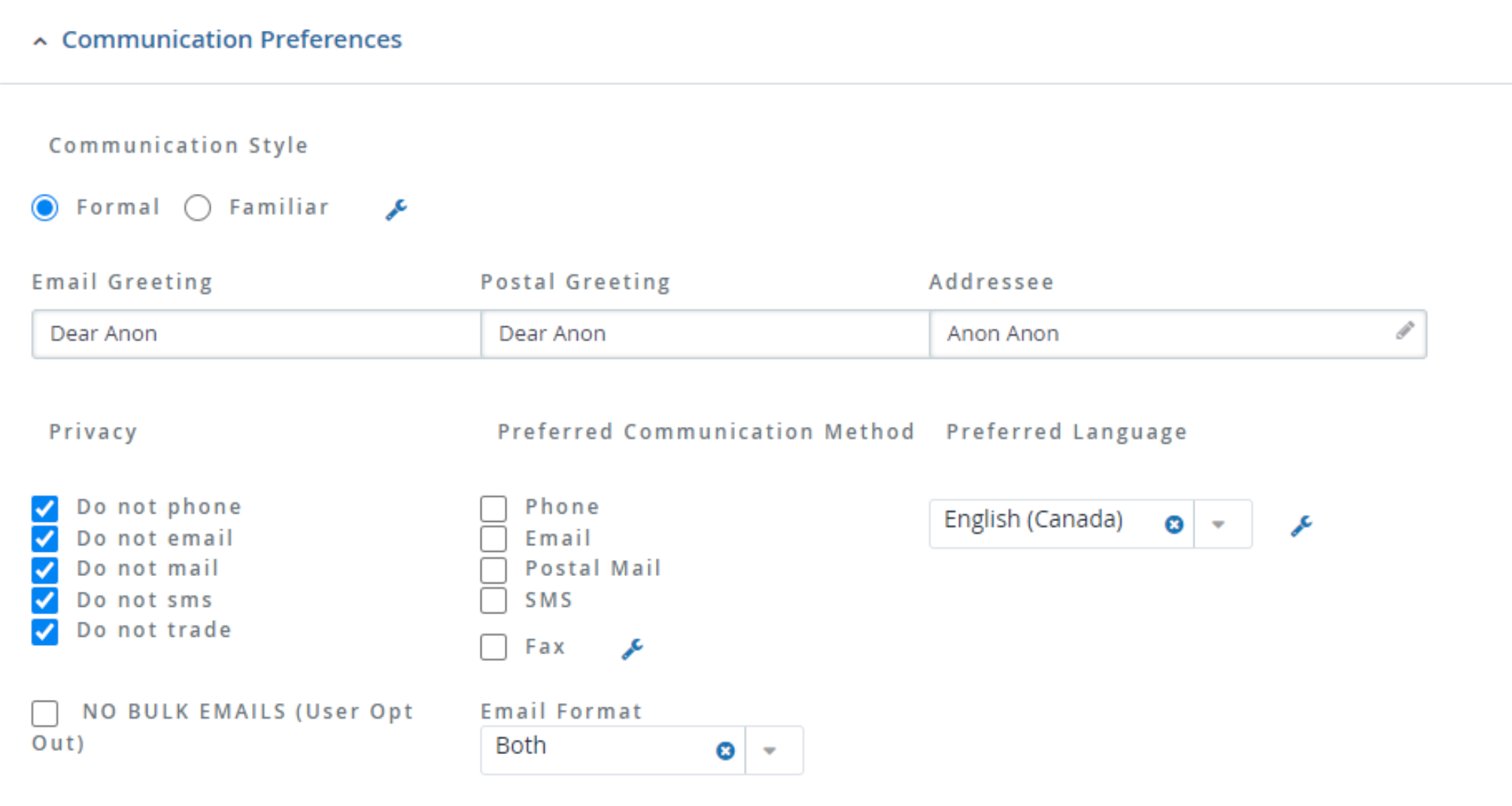 Demographics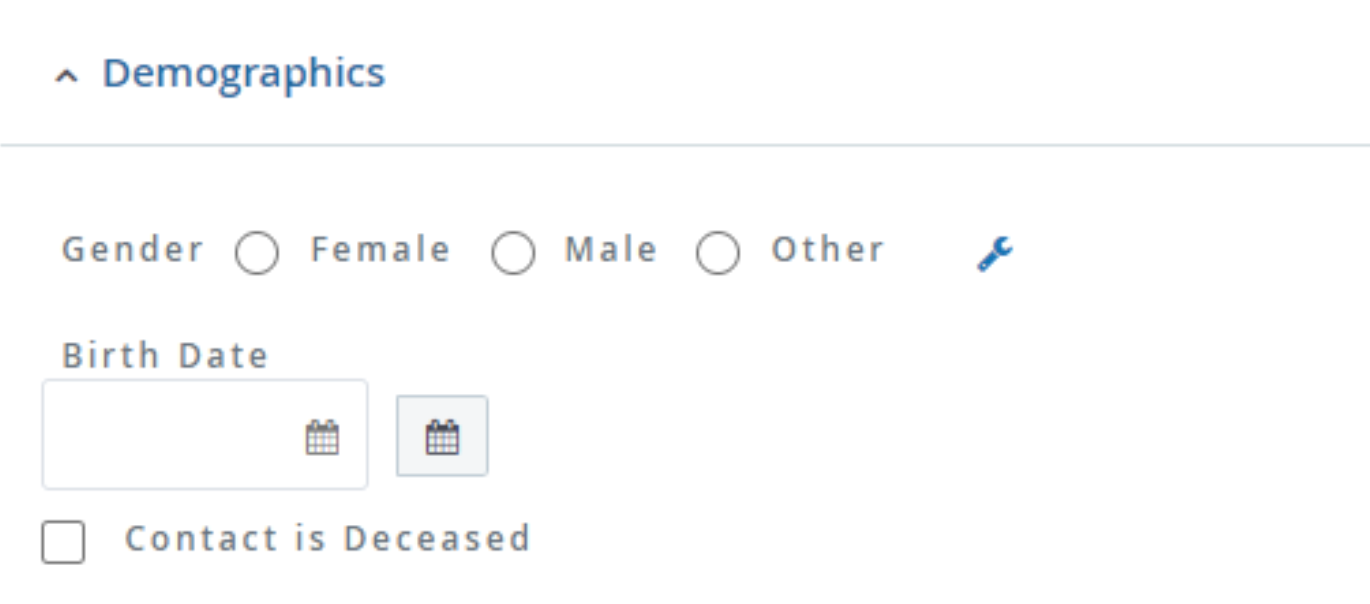 Tags and Groups

---
Other
Once your data migration is complete, we invite you to review any Contact or Contribution notes that could be useful to your organization and re-arrange them as you please!