[Donor Management System] Adding Charts to Dashlets
Track your Summarized Report data straight from your Home Tab by adding a customized Chart as a Dashlet.
By default, these Custom Dashlets will only be seen by the DMS User who generated them but any User can configure it on their Home Tab.
---
Considerations
1. First, generate a Bar Chart or Pie Chart from within the Reports Tab.
2. Next, add the Chart as a Dashlet.
---
Adding a Chart as a Dashlet
1. Once your Chart has been generated, you will have the opportunity to give it a Title and Description.

Note: this title will be displayed on your Home Dashlet.
2. Next, navigate to the Access subtab. Here, you can:
Add to My Reports?: Add the customized Report to the list of your private Reports
Available for Dashboard?: Add the Report to your Dashboard

Note: The title and description will also be displayed in your Reports Tab if you select Add to My Reports?.
3. Once the Report is available for your Dashboard, select Actions and select Create Report.

4. Now, your Report is ready to be added to your Dashboard. Navigate to the Home Tab to see that there are Dashlets available for you to drag and drop. Select + 3 Available Dashlets to view.

5. Drag and Drop your new Report into your Dashboard. Other previously created Reports may be available to you as well.

Note: You will be able to delete your Dashlet from here by selecting the Trashcan icon.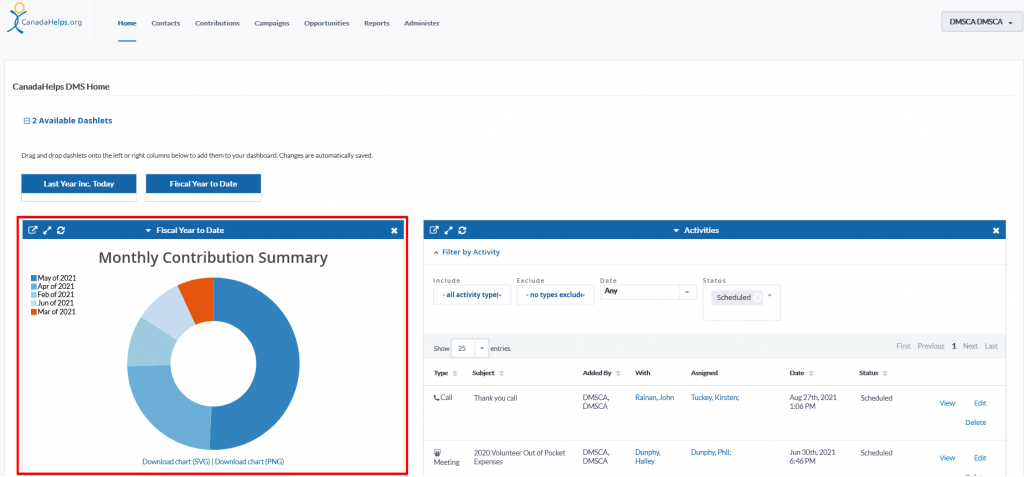 6. Once your Dashlet is in place, you will have 4 options to select:
View Report: will take you to the original Report in a New Tab
View Fullscreen: will open a fullscreen view of the chart within your Home Tab
Refresh: the Dashlet will refresh regularly, however, you can refresh it manually
Remove from Dashboard: will place your Chart back under your Available Dashlets.