[Donor Management System] Adding a Single Recurring Offline Contribution
You can keep track of your recurring Contributions while you are adding or modifying a Contribution in the DMS. This article will cover adding recurring offline Contributions.
–> Learn more about adding Online Contributions and performing Live Transactions in the DMS
---
Considerations
Marking an Offline Contribution as Recurring will not automate the generation of multiple recurring Contributions in the DMS. Each subsequent recurring Contribution will need to be added manually as a unique Contribution.
For example, if Contact John Doe contributes once a month for one year, 12 separate recurring Contributions marked as Recurring will have to be created in the DMS for each monthly Contribution.
---
Adding an Offline Recurring Contribution
1. Go to the Contributions Tab
2. Select Add Contribution on the top right corner of the screen

3. To perform a live Credit Card or EFT transaction instead, select Online Payment Contribution

4. If you don't want to perform a Live Transaction, fill out all mandatory and necessary fields on the New Contribution page:
Main Fields:
Contributor: the Contact making this donation.

You can further narrow your search based on specific criteria.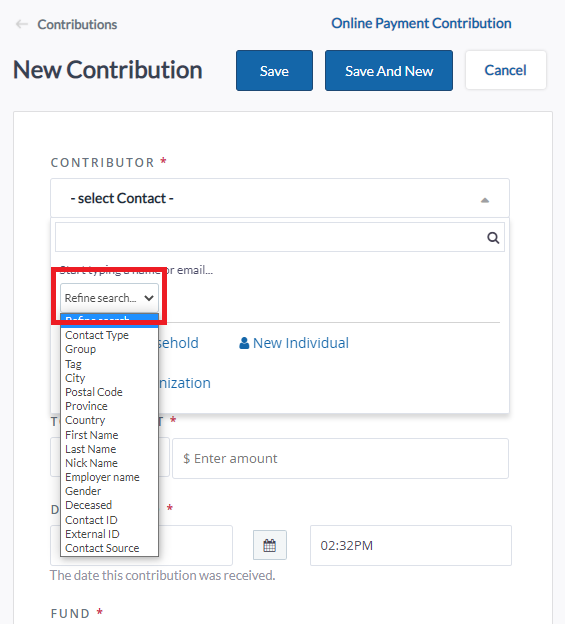 Payment Method: the payment method used to make this donation.
Transaction ID: an additional external ID in addition to the automatic one created in the DMS (e.g. ID from an external payment processor).
Total Amount: the total monetary amount for this donation.
Data Received: the date this donation was received.
Fund: the Fund this donation is going into.
Campaign: the Campaign associated with this donation.
Source: which source the donation is coming from (e.g. Historical Data Import). You can also add a new Source by selecting +Add New Source on the right.

When adding an offline Contribution, the default Source will be DMS Manual.
Contributions coming from CanadaHelps.org will have a default source of CanadaHelps.
Contribution Details:
Exclude From Tax Receipting: Select Yes if a Tax Receipt for this Contribution has already been issued externally, or if it is not eligible for Receipting. Otherwise, you can either select No or leave the question blank.
External Receipt Number: if the Contribution has been receipted externally, add the external receipt number.
Contribution Note: optional note for the whole Contribution.
Mark Contribution as Recurring: indicates if the donation is recurring. If it is, you still have to manually process the subsequent Contributions.
Dedication Information:
In Memory Of: if the donation is in memory of something and/or someone.
In Honour Of: if the donation is in honour of something and/or someone.
Name of Honoree: the name of the honoree associated with this dedication.
Message: optional message associated with the dedication.
Additional Details:
Advantage Amount: the total monetary amount of the Advantage.
Advantage Description: optional description for this Advantage (75 character limit).
Fee Amount: external fee in addition to any CH fees (e.g. a fee from an external payment processor)
Thank-you Date: the date and time that this donation has been thanked. The Contribution will be marked as Thanked.
5. Expand Contribution Details and then select Mark Contribution as Recurring.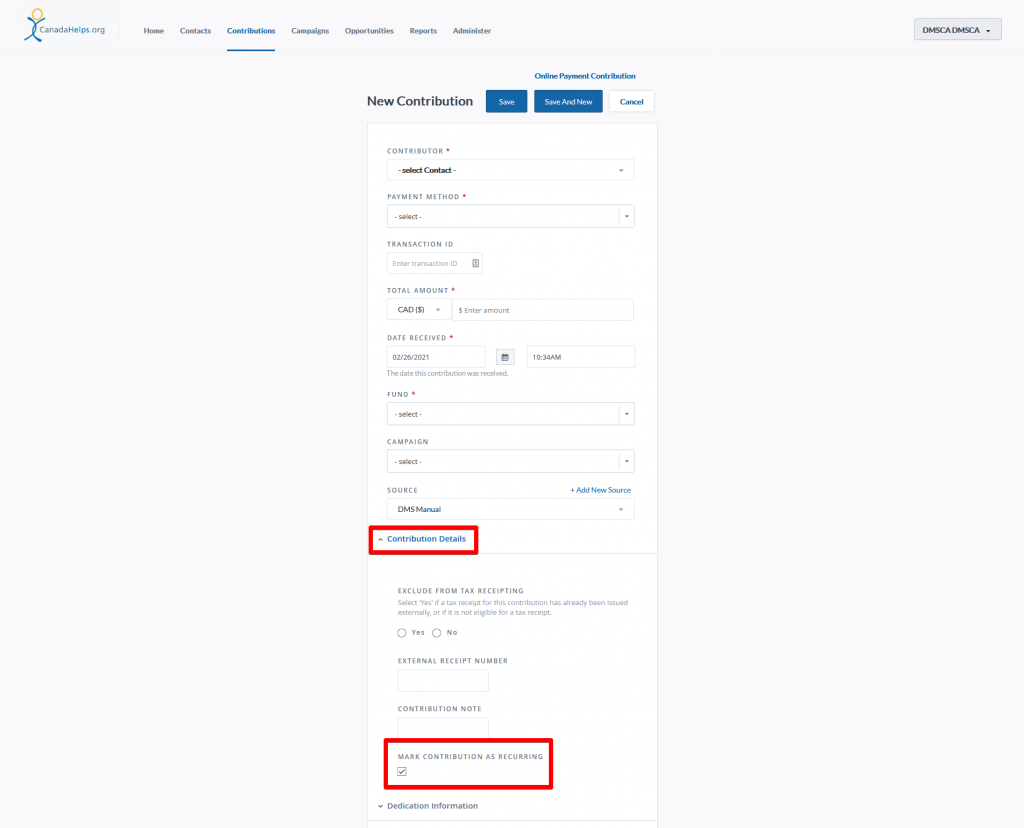 Note: each recurring Contribution will have to be added to the DMS separately. Contributions can be marked for dates in the future to account for upcoming recurring Contributions.

6. Select Save to add the new Contribution or Save And New to add the Contribution and create a new offline Contribution.
7. Recurring Contributions will be noted as Recurring or Recurring Payment in the Contributions Tab and Contribution Details.