[Donor Management System] Advanced Search for Contributions
Overview
Contributions Advanced Search lets you search for one or many Contributions based on criteria about those Contributions.
You can filter and segment your Contributions based on one or more data points or find Contributions that fall within specific parameters.
---
When to Use Advanced Search for Contributions?
 Example: retrieve a list of all Contributions over $100 that were made to a specific Campaign.

Additional examples that may call for an Advanced Search:
All Contributions made by a specific Contact,
Contributions made within a certain period of time,
Contributions under, over or between specific amounts (e.g. between $50 and $100),

Contributions made by Contacts that are members of a specific Group or have specific Tags,

Contributions that are allocated to one or more Funds, CH Funds or Campaign Groups
Contributions made In Memory or In Honour of a specific individual,
Recurring Contributions (e.g. monthly gifts).
---
Using Advanced Search for Contributions
1. To perform an Advanced Search for Contributions, go to the Contributions Tab
2. On the top right corner of the screen, select Advanced Search to expand the search filters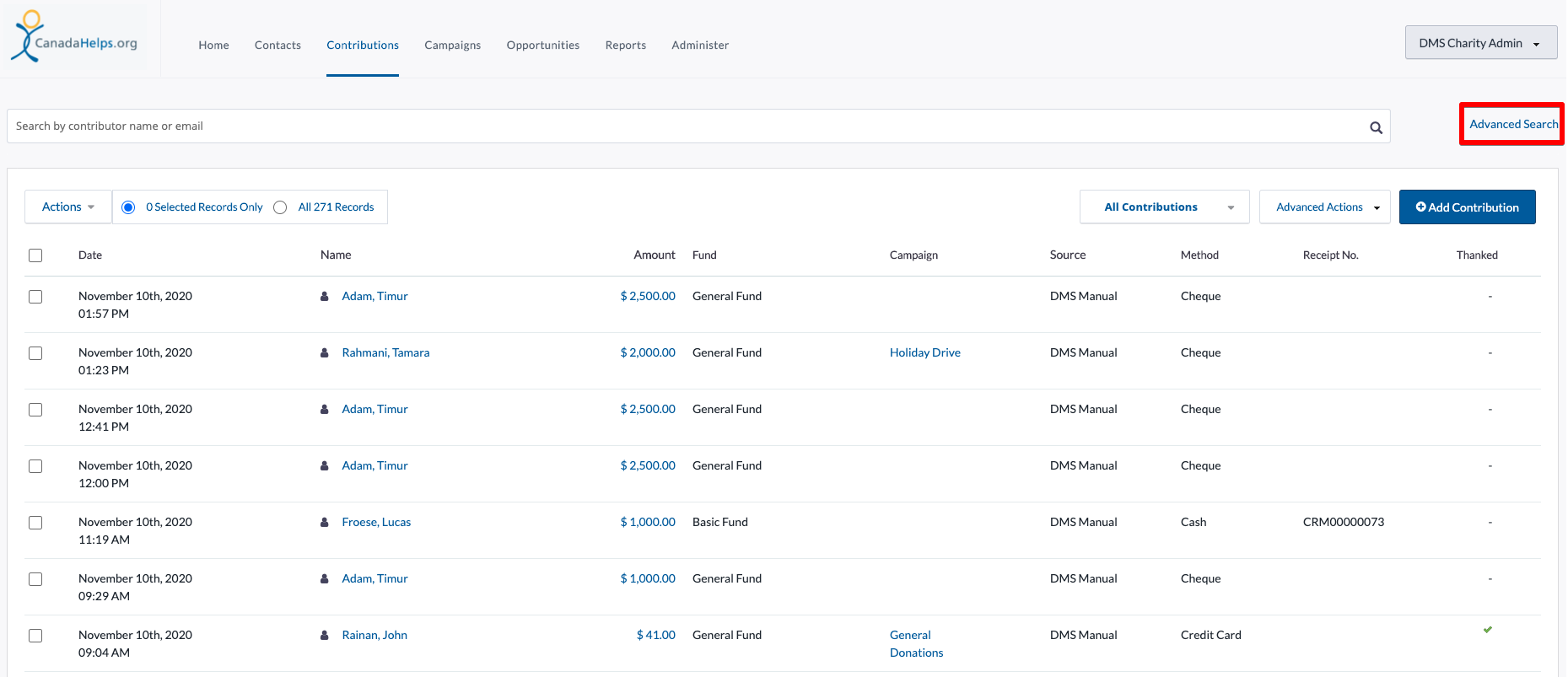 3. Use the available fields to input your desired search criteria. Once you have performed your search criteria, select Search to generate your results.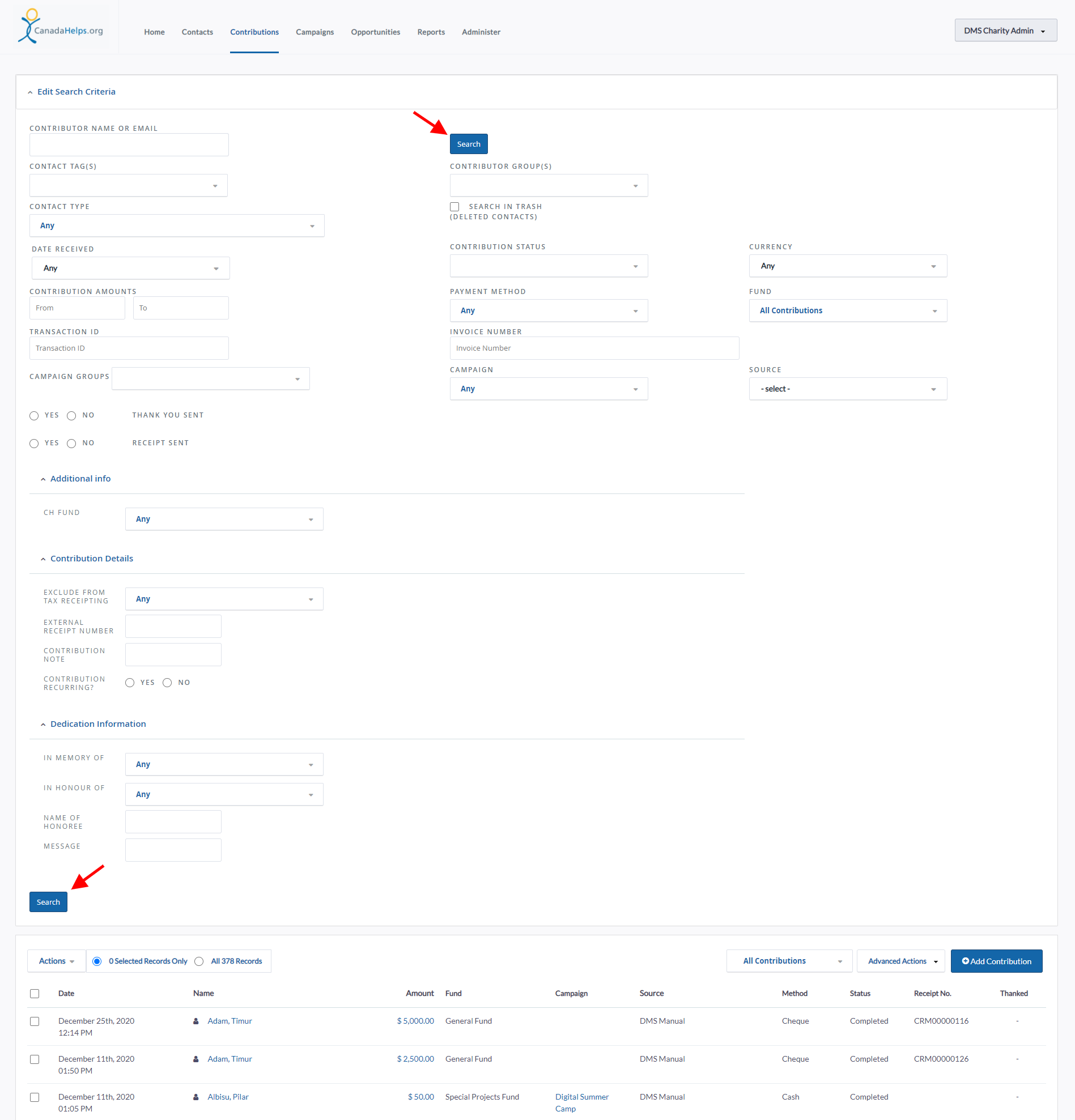 4. If you wish to add additional components to your search, select Edit Criteria, include your new criteria and then select Search.
---
Advanced Search for Contributions Fields
The following will provide context on how many of the fields and features of Contributions Advanced Search can be applied to your search.
Note: Contributions Advanced Search has Inactive Fields that are not yet available for search.
Contributor Name or Email: enter full or partial information in the Name or Email fields to retrieve Contributions made by specific Contacts.
Contributor Tag(s): search for Contributions made by Contacts with specific Tags.
Contributor Group(s): search for any Contribution made by Contacts in specific Groups or Smart Groups.
Search in Trash: search for Contributions made by Contacts that have been deleted.
Date Received: the date range in which Contributions were made.
Payment Method: the payment method that was used to make the Contribution. All CanadaHelps Contributions will have the prefix 'CH' to distinguish them from the payment methods made directly to your organization.
Source: where the Contribution originated from. Pull a list of all CanadaHelps Contributions or all manually entered Contributions.
Thank You Sent: by selecting 'Yes' you will retrieve a list of all Contributions that have been previously Thanked using the Say Thanks tool in the DMS. 'No' will retrieve a list of Contributions that have yet to be Thanked.
Campaign, Campaign Group, Fund or CH Fund: select multiple values to search for Contributions associated with these fields.
Receipt Number: retrieve Contributions based on the charitable Tax Receipt Number that has been issued for that Contribution (CanadaHelps or DMS issued).
Note: retrieve Contributions that have a Note that matches the text entered in the field. This is a separate Note field from Contact Notes.
Contribution Recurring: retrieves Recurring Contributions (e.g. monthly donations).
Dedication Information: Select Yes to retrieve Contributions made In Memory or In Honour. Enter the name of the Honoree if you wish to retrieve all Contributions dedicated to a certain individual. And use Message to retrieve the message that the donor would have sent to accompany the tribute.
Inactive Fields:
Contributions or Soft-Credits: currently the DMS is not configured to handle soft-credits. Please ensure this field is set to Contributions Only.
Receipt Sent: this is currently being configured and is not yet fully functional.